16 Aug 2004
remote recording of "the dream"
---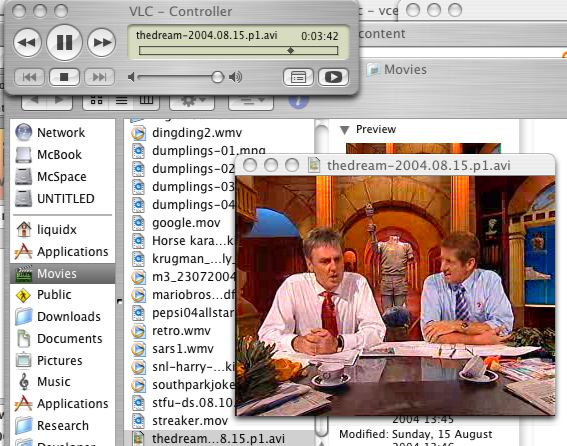 on saturday, i bit the bullet and setup a cron job and figured out a simple one-liner to record
The Dream
from my server in australia so i can catch up with australia's view of the olympics from the comfort of the usa. of course, i enjoyed the fact that we're kicking usa's ass in swimming, although i'm sure that won't last very long! basically, i'm doing it on a
p3 600
celeron 450 which has about 200G of disk space, using mencoder, a bttv capture card and libavcodec's divx encoding. i don't use btaudio -- just capturing from /dev/dsp since its much easier to setup like that. the file ends up to be around 450M for a one hour episode using around 600kbps for the video and mono 64kbps for the audio. it even manages to encode in divx in real time. the trouble is transfering it to the US. with each episode weighing in at
450M
350M, it takes around 5 hours to transfer it with a 15KB/s upstream from australia. maybe it might be more economical to get my brother to burn some on dvd and send it to me via snail mail.
---
You can reply to me about this on Twitter: