26 Oct 2005
news roundup: music, apple, apples, london
---
i've been busy with various things recently so i haven't commented on any tech news recently. there are a load of things i want to say about all sorts of things. but here's a long post for me to spill my thoughts about tech and life in general:
1. apple products
i'm a couple of weeks late, so let me start with the most recent and work my way back.
itunes music store in australia
!!! FINALLY!!! how long have i waited for this? anyway, as soon as i got wind of this, i immediately went and got my australian credit card out. after many many false starts, we finally got an itunes music store there, however, the selection is pretty disappointing, but i'm sure they just haven't had time. when i say disappointing, that is firstly Sony BMG (like the japan store) don't have anything in the catalogues, and also EMI aren't allowing full album purchases for their artists. normally that isn't a problem since i hardly buy full albums, but there are some songs which are marked "album only," so i can't actually buy the songs even though i'm willing to buy the album. other thing is that the back-catalogue is quite thin. i immediately tried to search for artists that i already have CDs for, and most of them aren't even in the system yet. but i'm sure that'll change soon.
so the other apple releases i was excited about was
aperture
and the
new imac
. not too concerned about the ipod video since i still contend that no one will go stare at a 2" screen for 2 hours for a movie. they're only good for an MTV or maybe a
short funny viral video
you watch when you're bored. or possibly video podcasts -- mainly the
delicious system:filetype:mov
feed that is very cool if you have unlimited bandwidth.
first off, aperture is like the answer to all of
iphoto
users complaints. too bad it is $500US and probably requires a
dual powermac g5
to run properly. i love the interface and the things it can tweak, preserving the original and all the nice controls. too bad i'm not a professional photographer, but i'm considering changing my profession just because of this app. hahaha ..
the other thing is the new imac. man, if i had money, i'd buy the new imac immediately. this is what apple's answer to the media center. and hey, its not bad either, the remote and the camera in the imac are the deal makers. how many times have i showed off
sailing clicker
to control my itunes on the powerbook at parties and how many times has there been "wows" and "woos" from people who didn't know computers could do that. the isight, well, what can i say. it is about time they solved the problem people had about putting the isight on the imac!
2. london and francis
so my friend from australia came and vistied london and uk in general. in fact, it was his first time in europe, for business, so he stopped by uk for a little bit of a holiday and so we could catch up. also, he really didn't quite want to stop here, but his visa was expiring, so he needed to stop over in an english speaking country to renew his visa at the
US embassy
.
went down early last week to meet up with him and take him around, and to give him all sorts of paper work that the US embassy requires. we had lunch in an italian cafe in london where he tried to order a "side of fruit", but his accent plus combined with the italian accent of the manager meant that no one knew what he was ordering. in fact, the manager was so embarassed about it, that he offered us a round of coffees on the house! appararently in us, it is typical to get fruit with your meal, but not over here.
i went with him to various bits of london, including where those horse guards were (i've never been there), westminister abbey (where there was a line to get into the gallery for all the blair fanboys to watch him debate the id card issue) and to the
tower bridge
(which we went up and discovered that unless you get high on bridge mechanics, then you probably wouldn't find it worth paying £5 going up there.)
of course, no visit to london is complete without my pligrim to the
apple store
. this was no exception, but the only excuse i made to go there was to check out on google maps where the embassy was. in fact, google maps sucked on that, and we had to resort to multimap!
3. apple fair
no not that apple, but the edible kind. on sunday, we went to the
apple fair in cambridge
that happens every year around this time. basically, in the botanical gardens in cambridge, they setup some tents to let local farmers show off their apple ciders and apples. you could get free tasting of over 20 types of apples and even bring your apples from your apple tree (if you're lucky to have one) and they could classify your apples.
i enjoyed it more than i thought, but the cider was pretty weak and expensive. we bought some nice apples tho, but unfortuantely they had no macintosh/
mcintosh
apples.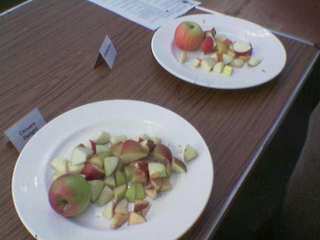 ---
You can reply to me about this on Twitter: