12 Nov 2005
google open house in london
---
i went down to london last night to check out the
google open house party in london
. partly because i was curious about the
new google engineering office
in london (hey, i'm supposed to be finishing my phd, what then?), partly because i needed to escape from cambridge (sigh!) and also for the chance to meet up with
nick
who i've only known from
anil's
mouth and silc.
well, lets start off with google first. they've got some offices near victoria station in london. a nice new building called
belgrave house
(flash), they're nearly the first tenants in there, or so it seems. the party was so-so. lots of people, nearly an orgy of google colours. the desserts we very nice, lots of free booze (thats where your money is going google shareholders :), trademark scrolling google searches displayed in the lobby.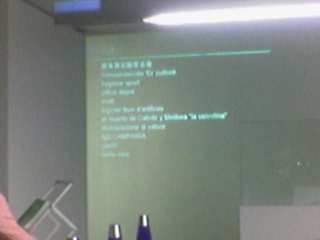 learnt a few things i didn't know, such as that they have an engineering office in norway in addition to the one in zurich. they seem to also have one in japan, but they didn't send anyone over. another interesting fact is that they're spending some time improving translation services, even won some translating competition using statistical information from their database.
although, the point of the party was a bit loss. they didn't seem to be recruiting yet (
no engineering jobs here
), even tho they only have very few engineers there. it seems like they are going to headhunt some kick ass people first before experimenting with hiring new blood.
we did manage to leave the party with a bit of google swag. alex who came down with us also managed to win a bluetooth headset for his phone which may or may not have bluetooth. he so nearly won a video ipod! we also got a t-shirt which is too big for me, and boutique style paper google bag and a flashing annoying google badge that i'm going to use for my rear bike lights.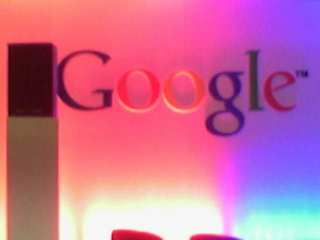 (turn those bloody lights off, google)
other non-google things, we had some ramen and sashimi near leicester square at
zipangu
. their ramen wasn't spectacular (it didn't taste like the ramen in japan), but at least i had sashimi. why is it that they have sashimi in london for a reasonable price (ok, reasonable-ish) and double the price in
teriyaki
in cambridge. surely an hours ride for the dead fish can't be that expensive. lastly, finally managed to meet nick in real life, didn't get enough chance to really chat because of the bloody hypnotic google colours, but there's always next time!
oh for the thrifty uk readers (yes, all 4 of you): apparently you can get
4 tickets for the price of 2
if you travel in groups of four when travelling on the train. cheaper than using your young persons rail card.
---
You can reply to me about this on Twitter: