27 Dec 2005
podcasts you should check out
---
i've recently discovered the
ricky gervais show podcast
, an extension of his show on xfm and/or bbc radio, which is hilarious. i nearly fell off my bike laughing while listening to it on my way home.
An extra-long, seasonally anti-climactic edition of post-yuletide chaff brought to you by Ricky Gervais and Steve Merchant; ably hampered by Karl Pilkington.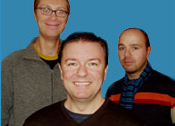 another nice one is the
happy tree friend's video podcast
(xml). our
cuddly suicidal friends
are now bought to you in weekly rss glory. most people who know me in real life will know that i use the happy tree friends ringtone!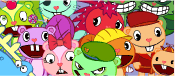 ---
You can reply to me about this on Twitter: