28 Dec 2005
an english-ish christmas
---
this year, for a change, i spent christmas in england. and in true english style, i managed to spend it in the countryside of england. thanks to alastair beresford for inviting me and patricia to his mum's home in
suffolk near ipswtch
. a big thank you to mrs. beresford for keeping us fed for the three days we were there. it was so much fun, and very nice to be in the english countryside instead of dullbridge, oops, i mean cambridge.
here are some musings from a very un-informed guy about english countryside and english christmas -- so if you're english, you'd probably won't find this very informative:
christmas eve (24th dec)
so we set off on christmas eve, only a day and a little since we got
back from austria
. traffic was very light, as i suppose most people had already made their way home for christmas. i'm not sure about other places, but in england, it seems that the whole country goes home to spend christmas with family. it is very similar to thanksgiving in the united states and canada, and i suppose chinese new year in chinese countries. but this year, christmas eve fell on a saturday, so many people must of taken the chance to avoid the rush by going on friday night or various times during the saturday.
the peculiar thing with christmas in england is that everything shuts down. its quite incredible to see how the country just grinds to a halt on christmas. on the 25th and 26th there would be nearly no public transport. little to no trains would run on christmas and boxing day, however, some shops open really early on boxing day for the post-christmas sales. anyway, the fact that there are no trains means that we were to spend both christmas and boxing day at chez beresford.
we set off just before dark and by the time we got there it was totally dark. the beresfords live in a place that has no street lights. it's kind of weird coming from a big city where there are street lights everywhere. there were B-roads we were on had no street lights. these were very narrow two way streets. the street their house was on was pitch black at night. i knew because we went out after dark on christmas eve to a pub in close by woodbridge for a pint, or three, and literally couldn't see the ground while we were walking out.
woodbridge purportedly has around 8,000 people, and has 14 pubs. that's around one pub to serve 500 people. and that was really nearly the capacity of the
pub we went to
. i'd never seen a busier pub than this one. it seems like a huge school reunion with everyone coming back to the area to reunite and update each local friend on what they've been up to, gripe about how many people there were in the pub. along the way to the pub were some weird decorations above the front door of people's house. the most striking of which is that theres people so enjoyed showing off their christmas tree, they decided to stick a 2 feet height christmas tree smack on top of their front door, with lights. its was just really odd, and i'd even dare to say tacky. i wish i took a picture of it!
christmas day (25th dec)
we started the day with some light breakfast. light because we knew that christmas dinner would start later in the afternoon, at around 3pm. yeah, dinner at 3pm, that is how dedicated the english are to christmas food! in the morning, the vegetables were prepared along with the turkey. nice thing is that it is so cold, that there is no reason to put the turkey in the fridge, but you just leave it outside the back door!
there was the present opening thingy. mrs. beresford is a school teacher, and so she has a whole load of presents from her students. so it took her nearly an hour to open all of them.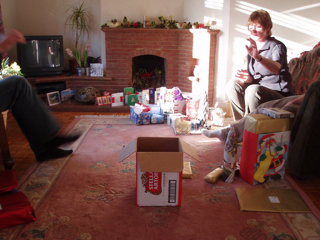 after presents opening, we went over next door for some pre-xmas drinks. what i learned was that these guys were rich! they had basically bought out all the land around the beresford house. and i don't mean like a strip of land, they've bought out acres and acres of land, as much land as far as the eye can see, and then turned it into a meadow. they even have two horses that graze on this land.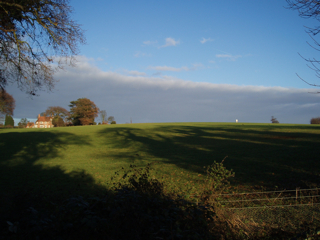 that's the rich dudes house on the left and that white speck you see on the right, thats their pony! yes, they have everything, including a pony! and that green stuff, all theirs. anyway, they were very nice people though, at least i could see they had a very happy family.
of course, after much fluffing around, there was a short walk before the dinner. actually the walk should be after the dinner, but knowing that it was going to be dark by the time we finished dinner, we chose to have some pre-stuffing exercise. walked around melton and even across railway tracks that had such charming signs: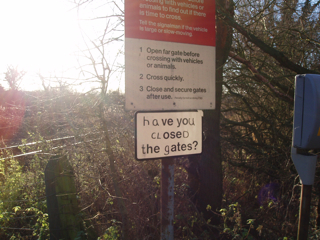 i'm very happy that my grammatical style has been vindicated by the official railway crossing signs in this part of the world. hurray for the misplacement of capital letters.
the most important, and probably the last thing i can remember before bed. the christmas dinner. we had some fabulous potatoes, veggies and most important of all, turkey. i failed to take a picture of the turkey before we had it! grrr .. anyway, let me assure you it was big and meaty. mrs. beresford had some amazing cranberry sauce that was out of this world. it went so perfectly with the turkey! of course there was some stuffing, ham and sausages.
to top it all off, there was no shortage of dessert. we had christmas cake, christmas pudding and christmas trifle. i don't even know how we managed to eat all that. but after that, i needed to lie down.
boxing day (26th dec)


after recovering from the christmas dinner, we vegged out a little and then went for a boxing day stroll along the seaside down in alderton. it had started raining on and off, and the weather was a little brisk, but not too crazy. the seaside was beautiful, and we had to wade through some farmland though. very tempting free salad!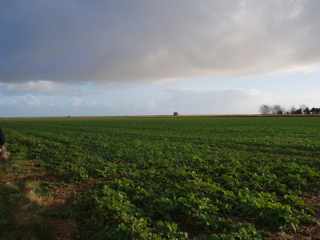 and for the first time, i saw my proper stony beach in england. after years of laughing at them, and even getting close to one in
southwold
(it wasn't completely stony), this was a proper pebble beach.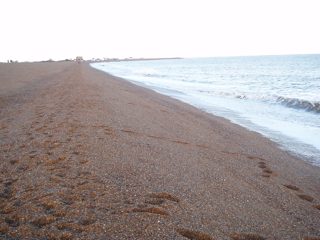 and on our way back, we encountered the british army's secret torture machine, they call it the nutgrabber: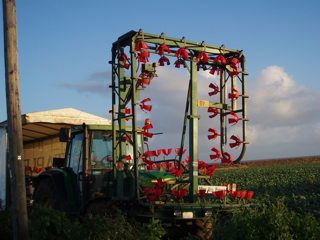 actually, i have no idea what it is.
post-boxing day (27th dec)
finally, home time! after breakfast, we packed our bags while ali b struggled with getting the train times out of the computer on the other end of the phone. what should of been a 2 hour journey back home turned into a 5 hour epic. this just shows how incompetent the british rail system is. there was
a little snow in the morning
: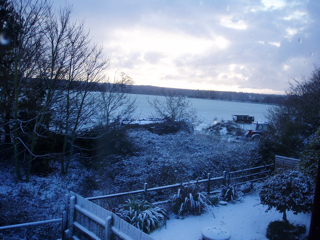 and we had our
train cancelled
at both the single track station in melton, and we luckily hitched a ride down to ipswich station (bigger station in suffolk) where another train we were going to take was cancelled. to add insult to injury, after waiting an hour for the next train, they ushered us on to a single carriage train, and then after sitting in the carriage for 15 minutes, they announced that this train had broken down earlier in the morning and they were carrying out some repairs on the train that wasn't successful. so we then had to take a 2 hour coach ride on the icy roads. it was one of the worst coach rides i've been in, the driver was all over the place, and right when we got into cambridge, the passenger sitting right in front of us threw up and the whole coach stank of her christmas dinner(s)!
i asked the driver to let us off immediately because that smell was so sickening that if i had another minute in the bus we would of thrown up as well. luckily we got dropped off around 2 minutes walk from our house and got home a whole half hour quicker than if we had gone all the way to the station.
finally
anyway, despite the long trip home, it was well worth it. the beresford's have such a wonderful home, and mrs. beresford was extremely kind and generous for preparing such a wonderful christmas dinner and accommodating us for three days! thanks!!
---
You can reply to me about this on Twitter: