30 Dec 2005
album art widget 2.4
---
quick note. a mainly long overdue bug fix release with the album art widget. made saving album art to whole albums less error prone and added a nice icon if the art is fetched so you can actually see what page it got the artwork from.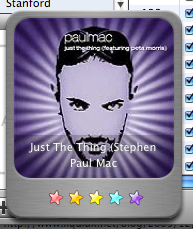 as usual, download it from the
album art widget page
.
---
You can reply to me about this on Twitter: