28 Jan 2006
opera mini browser for your mobile rocks!
---
if you've browsed the web before on your mobile, you'll know how slow and frustrating it is. that is because no good ui designers wrote software for phones. finally, opera has applied some of their know how to pioneer the mobile web browser market.
the
opera mini browser
really does rock. i've been using it to browse all sorts of things like bbc news and god forbid, liquidx.net and it works great. i was thinking about adding a wml version of my page just for fun, but it looks like this browser is good enough to use verbatim on my site. i believe it funnels the traffic through some sort of rewriter that shrinks all images.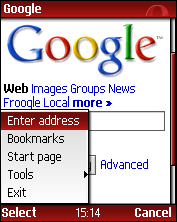 if you go to the
bbc website
, all the images are shrunken down so they look good enough on your phone, but small enough that it won't bankrupt you. i think the real test would be to use it to browse
fark.com
or
flickr
. and reportedly javascript works too, but no i don't want
scripactulous
stuff on my phone!
anyway, the point is, if you've been skeptical about web browsers on your phone, you should give opera mini a try!
---
You can reply to me about this on Twitter: