01 Feb 2006
cantonese podcast from cambridge
---
in one of my more fruitful trawls through itunes' podcast directory, i stumbled across a podcast that was made right in our backyard. half the people on the list of "guests" i know or recognise!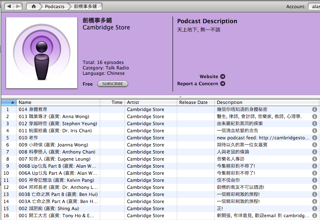 i haven't had time to listen to any of the episodes, but its kinda funny to think that they have anything to say ;) i will actually go and listen when i have some time. god i wish there was some
tikibar
action in cambridge! they have a
content free website
here, but i suppose if you want to subscribe, here's the
itunes link
or
rss feed
.
---
You can reply to me about this on Twitter: