03 Feb 2006
damn it is cold.
---
according to dashboard, its snowing, but its too cold to move to the window to check whether it really is. i'll find out tomorrow morning.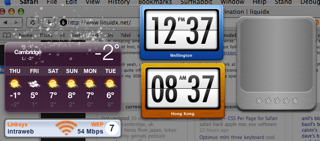 i need to explain that screenshot a little. i don't know anyone living in wellington, nz, but the problem is that for some reason, i can't get the right sydney time in the
flipclock widget
with the combination of crazy daylight saving hacks happening in australia due to the commonwealth games, the closest time i can get is wellington time!
hong kong time is self explanatory, the widget on the bottom is
air traffic control
, that lists the current wireless network and also other spotted networks, their signal strength and channel number. so there you go, our home wireless network is called intraweb, a little homage to crazy newbie netspeak. nice thing with this widget is it has a database of known MAC addresses and notices it is a linksys router. yes we run WEP here, so you can come around and hack our network if you want. that is because we have a mix of some older PCs that don't support WPA properly. i'd love to switch to WPA in a heartbeat, but i have to wait for my housemates to get rich enough and upgrade to a macbook pro! (haha i wish!)
---
You can reply to me about this on Twitter: