04 Feb 2006
podcasts i listen to - again
---
so yesterday i was teased a bit about the amount of podcasts i listen to. i was asked whether it was 10, 15 or 20 podcasts i listen to per week. not quite sure, but i believe it might be more than 20 per week. here's what my itunes podcasts lists looks like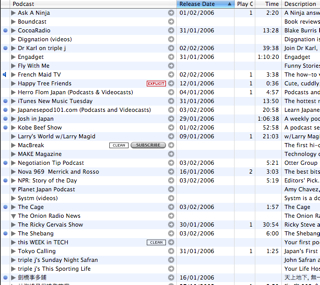 ok, so not all of them are updated daily or weekly. here's a
list of podcasts
the ones that i really do recommend listening to.
for the observant ones, you'll find that the list is hosted on a weird site called
flists.com
. it is actually a small project of mine to help me keep track of lists of things. anything from personal lists to fun things like podcasts i listen to or
mac apps that i use
, for entertainment and educational value. it isn't quite done yet, so i'm not really "launching" it, so to speak. but its one of the many side projects i have to waste my time with.
---
You can reply to me about this on Twitter: