10 Feb 2006
what google thinks of liquidx.net
---
google sitemaps has this new feature
that tells you what the most frequent keywords are on your site. here's a shot of what it says on liquidx.net.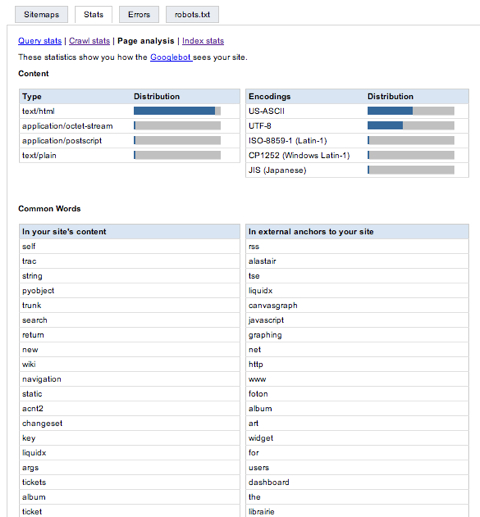 so lets break this down a bit. so the words on the left are the ones that i mention most here, and for some reason, none of them are really things i talk about, but instead words that appear in the headers or footers of my page.
on the right are things that pages link to me describe this page as. that makes much more sense.
one interesting thing at the very bottom is "librairie"? what is that?
i really need to switch off the trac wiki so that i don't get so much crap about trac, changesets and navigation. geez! oh yeah, and on the top it says i have some pages that are in japanese language. i have no idea where these pages are .. if someone finds them, please tell me because i need to know!
---
You can reply to me about this on Twitter: