10 Feb 2006
i got world cup 2006 tickets!
---
yeah, i got allocated tickets to one game at the
world cup in germany
! woohoo! i applied for tickets for the world cup in japan back in 2002 and didn't get any tickets at all. but this time, i aimed slightly lower and only applied for the
group stage games
. but since i missed out on the olympics by being in princeton in 2004, i thought i had to go to one big sporting event while i was in europe.
so i applied online for three games, all of them were in the
group which australia, japan and brazil were in
. oh yeah, and i think there's croatia or something. so i applied for australia v brazil, japan v brazil and australia v japan. turns out i didn't get all three, but only got the australia v brazil game. it is a little disappointing that i didn't get the other two games, but hey, at least i get to see brazil play!
the best thing though, is that the game is going to be played in munich, which has this awesome
allianz stadium
. here are some pics of what it looks like: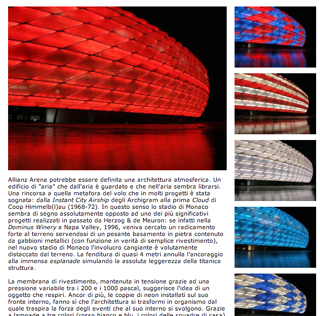 so i'll be in germany for a week of so in june. that'll be pretty awesome and i'm looking forward to it.
---
You can reply to me about this on Twitter: