04 May 2006
summer has finally arrived
---
we seemed to have skipped spring this year, but summer has finally arrived in full force. today was a sunny 24C all through out the day, even at 7pm.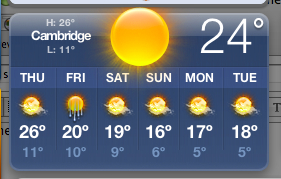 notice that it can get down to 5C at night, a bit odd.
anyway, speaking of widgets, i've started using this simple widget called "
sol
" that tells you how much sunlight you can expect. very simple idea, and it's gained a foothold on my high value 12" screen dashboard real estate.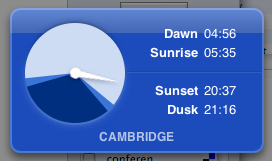 of course, dark blue meaning its gonna be dark, light blue means its transitioning and light blue meaning there light.
---
You can reply to me about this on Twitter: