18 May 2006
google maps for australia and new zealand!
---
"good news everyone",
google maps just added street maps for australia
and new zealand!
maps.google.com.au
isn't live yet, but i'm pretty sure that isn't far off now! this is great news for all mapping aussies. so that was only a couple of weeks after
google maps europe
. not bad at all.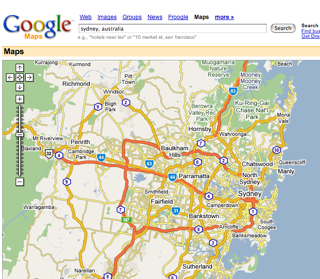 as much as i would like, i'm pretty sure it has nothing to do with my little
google maps australia street maps mashup
before. i'll still leave the demo online, because maybe it will come in handy as sample code for other places that still do not have street maps and want to employ the same trick.
thanks to
peter and james
who tipped me off in my blog comments about the exciting news!
---
You can reply to me about this on Twitter: