30 May 2006
switzerland
---
i was in switzerland for the last 5 days, taking a short break, meeting up with chris and salina and going to another place in europe that i've never been to. turns out that i also met some great people, jessica and dave who were really generous shipping us from city to city, making sure we have stuff to eat and opening up their beautiful house to us.
anyway, we managed to visit zurich, geneva and st. ursanne. we even managed to hike up a mountain called stockhorn.
things i learnt
apparently, the disneyland's mattahorn is actually a real mountain in switzerland. and also it appears on a pack of tolberone! that is after we were going through jessica's photos and i pointed at a photo and said, "hey, that looks just like the mattahorn in disneyland!" then was told it was the real mattahorn. *embarassed*
mountain we hiked up
the second day we were there, we went to stockhorn, which was quite a way up. it also happens that up here, there is still quite a bit of snow around, even near the end of may. so we made a two hour hike up that mountain, which was quite tiring, but equally satisfying.
zurich and geneva
these are the big cities in switzerland. both interesting in their own way. zurich is german speaking and has a lot more posh and rich shopping, whereas geneva is filled with museums of all sorts. just so happens i didn't do much at both places. we did make it our mission to find the most ridiculously expensive watch in zurich, which happened to cost upwards of £120K by omega: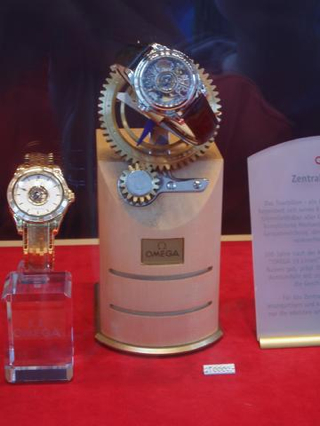 we were wondering how many of these are sold per year? how much would insurance cost on it?
we also spotted this metallic tree, which i believe is where apple powerbooks are grown.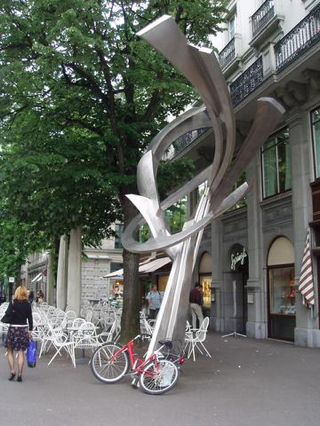 other photos
from my trip are here. unfortunately we had a USB interface issue so we couldn't quite exchange all our photos. but i'll put more online when chris gets back to australia.
---
You can reply to me about this on Twitter: