14 Jun 2006
slow start for the favourites
---
as usual, many of the big name countries have played some disappointing football. last night saw brazil vs croatia and france vs switzerland. granted that both croatia and switzerland were tough defensive teams, both france and brazil failed to create any real chances.
in the france game, even with the likes of viera, henry, zidane and wiltord, they didn't manage to score at all. henry was lacking any sort of support playing as a lone striker with no wingers running at the defence to stop them.
in the brazil game, they were lucky with a 1-0 win. anyone who watched it would probably say croatia had been unlucky to come out with a draw. however, the amazing thing with brazil is that every one of their players is capable of holding the ball confidently, even if they are prone to make mistakes (yes, i'm looking at roberto carlos.) croatia stifled any sort of threat from
ronaldinho
by committing a quadruple marking of him as soon as he gets the ball. must be frustrating to be the top player in the world.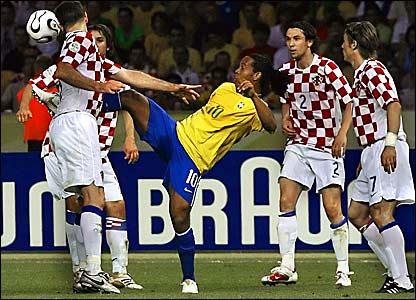 ronaldo hardly even moved. maybe he was jealous that ronaldinho (which means little ronaldo) was grabbing all the attention! the fact they so concentrated on ronaldihno meant that players like kaka were finding space easier, but that is all relative when a team plays 9 in defense.
then there was the england game a couple of days ago. again, not much attacking threat at all. they could blame everything and anything, but they need to sort out their delivery from midfield to the strikers.
now that nearly all the teams have played apart from the group with spain, i'd say we have a pretty clear look at where the upsets are going to be.
---
You can reply to me about this on Twitter: