02 Jul 2006
pre-world cup favourites all out!
---
the pre-tournament favourites (brazil, argentina, england) have all been knocked out of the world cup leaving 4 european countries, germany, france, italy and portugal. we only have 4 more games left to sort these guys out. my hope will by a germany and france final with france taking out the world cup. however, it looks like germany will be the favourite out of the four.
here's my take on some of the big games this world cup in reverse chronological:
quarterfinal: england v portugal
well, of course it sucks to lose, especially to a team like portugal and with 10 men for most of the match. but england couldn't convert their chances with lampard being the main culprit. as much as i hate the english press and pundits, i have to agree that the coach's strategy was poor. 4-5-1 is an italian formation of boring football, and england didn't have the probing wingers to support wayne rooney up front.
in fact, after
rooney was sent off
, the team actually played better with crouch doing an amazing job of holding the long ball and waiting for support from gerrard, lampard and lennon. all the criticism of sven goran ericcson's bad substitution were throw out of the window as lennon and crouch were one of the most positive substitutions of the whole tournament by the manager (although both were forced substitutions.)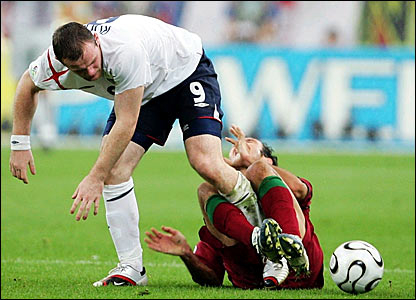 amazingly, they played better than against ecuador and sweden without needing acrobatic touchline clearances to keep themselves in the game. and blaming ronaldo for the sending off? well, i think it is rooney's temperment that got him sent off, not ronaldo. the fact that england played better after he got sent off showed how much rooney and beckham were holding back the team.
quarterfinal: brazil v france
in some ways, this would be the ideal final rematch between the two teams. once again, i think the difference were zidane versus ronaldo. ronaldo couldn't conjour up the form he had in the previous game, ronaldinho was not getting any of the ball which seemed more to do with his own teammate's ego more than the french defence. he was basically reduced to a human wall for doing one-twos and rarely tried to run at the defenders.
zidane on the other hand was showing ronaldinho how to play the game with his inch perfect passes and amazing dribbling ability. they deserved to win along with performances from viera, henry and ribbery. i hope they can keep up the form. it is a pity that none of the brazillian flair has been shown at this world cup.
last16: portugal v netherlands
a pretty ridiculous match from the ref:
16 yellow cards and 4 sending offs
. nearly one for every man on the pitch. netherlands had so much of the ball but couldn't find an opening. they had van persie and robben who was able to run at the defence, but when it came to the crosses into the area and finish, they had nothing. i don't know much about duyt, but i thought van nistelrooy would of been a better man to put up there in the face of the portuguese.
that said, england can thank this ref for cancelling deco from the portugese team for their quarter final match up.
last16: australia v italy
this game was very simple. the
ref won the game for italy
. the australians were robbed. it is as simple as that.
grosso is a diver
, he saw a body and tripped over it. of course, as all good divers do, they'd never admit to diving, but it was so damn obvious.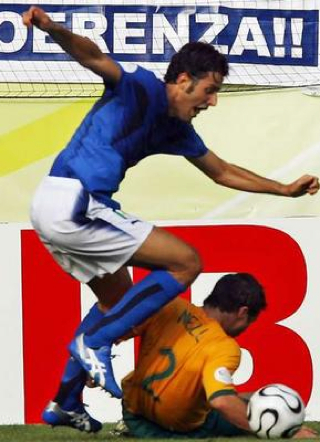 i suspect that the spanish ref in charge of this game should also be investigated in the italian football corruption scandal. he denied an obvious hand ball on the other end just a couple of minutes before but then turns around and gives a penalty on the australian end. i wonder if you can actually go read the fifa ref reports and see what he says about that incident.
group stage: australia v croatia
i didn't actually get to see this game live because the germans like to see brazil thrash japan. but after seeing the highlights on BBC's website, i have to say that the ref really screwed up in this game. he should be thanking his lucky stars that australia actually got an equaliser, even though it turns out that kewell was offside.
how can he give three yellow cards to the same person, and also why did none of the people who realised the mistake tell him? what is the use of the 4th and 5th official if they can't tell the main ref he's made a huge mistake?
fun world cup stats
its all well and good knowing that ronaldo is the all time goal scorer for world cups, but who has had the
most fake injuries, most ref bullying and not singing the national anthem
? check those stats out at
information builders
. of course, i don't need to tell you that the team that is diving the most is italy.
---
You can reply to me about this on Twitter: