13 Sep 2006
chiming in on itunes 7
---
the
internet
is
ablaze
with
mac
users
commenting
on how the changed
itunes 7
is going to destroy their lives and eat their first born plus second born.
1. 1024x768 is too small for the itunes
music
store.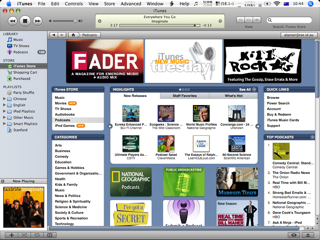 see how i've maximised my window and i still get scrollbars in the store. it isn't only this page, but all the music store pages. they're really trying to get me to upgrade to a widescreen, aren't they?
2. look and feel of the new interface
it seems like mac os x 10.5 is going to be moving away from shiny aqua things and tone down the interface colours, but add a lot more fancy animation (see core animation).
but that is not the reason why itunes has done away with nearly all the aqua components on the main window. i think it is mainly they wanted to unify the look on both windows and mac. now that they have a subtle gradient scrollbar and sunken buttons. i prefer aqua buttons personally, but now that all the ilife apps look slightly different from one another, i don't know what to think.
with that criticism out of the way, i can move on to the nice bits. there are so many improvements to list:
a. a downloads pane shows what downloads are happening (store downloads and podcast downloads) so you can pause them and resume them easily.
b. apple mail/iphoto like numbers on the sidebar to show you how many podcasts you have yet to listen to!
c. new
coverflow
view, wmp album grouped view
d. funky black selection highligh on the source list.
e. got rid of the itunes arrows on all the songs, and only display the arrows on the playing and selected songs.
3. album cover art
i think this is a great feature, if it works. there is no indication whether it works at all. i selected the option from the menu and it went crazy with my music collection, however, i haven't found it to work for me. i deleted the album art off a couple of songs to test it and it didn't seem to get the art for me. i'm not sure whether it is because the album is named slightly differently to the one in itunes, or what.
we'll see what happens. however, one thing i did notice was that during an album art fetching, my album art widget can't access the artwork of any songs (whether it is updating that particular song or not). it's a bit odd to say the least.
---
You can reply to me about this on Twitter: