30 Oct 2006
album art widget 2.9.1 released
---
well, i relented. i fixed some
album art fetching problems
, which turned out to be pretty easy fixes and also spruced up the update notification which was a source of embarrassment for me, causing me hardly to update my "
appcast
" xml file just so people wouldn't not see the monstrosity of the update notification.
the new one is much easier on the eyes and also you can switch it off if you get sick of me telling you that your widget is too old.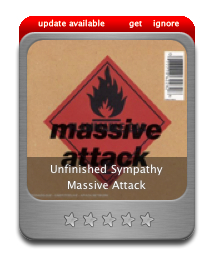 as far as i can tell, this release works fine with itunes 7.x, as did the previous release, except the album art fetching was broken.
i've been playing with the new itunes album art fetching, i've got to say, some of the artwork it can get is better quality than the stuff from amazon. but it does store the artwork in a separate directory rather than in the mp3/aac file itself because it doesn't want to have that stutter that happens if you modify a mp3 file which it is playing. i can understand why they did it, but i reckon they should give an option to push it into the file itself.
any how, the artwork still comes through the same applescript interface, so the widget shouldn't have a problem.
---
You can reply to me about this on Twitter: