23 Feb 2007
crazy opening times in hk
---
i stopped over for a couple of days in hong kong enroute to sydney because there were a lack of reasonably priced tickets to sydney during chinese new year -- and i optimistically booked tickets to hk before i scoped out the sydney flights (more on that later)
i got a chance to visit friends and relatives in sydney which i hadn't seen for about two years. one thing that never ceases to amaze me is the opening times for shops in hong kong. i think it should be like this all over the world -- shops are usually open till 10pm on a normal day, and many are open till 12am. during chinese new year eve, it gets even more crazy with shops like levi's opening for 24 hours or regular clothing shops opening till 3:30am.
don't believe me? check this picture out yourself.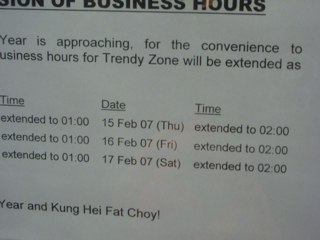 this whole phenomenon seems to be stemmed by hong kong's amazing competitiveness and the equally crazy working hours where people are regularly working 9am to 9pm at regular desk jobs, making it impossible to spend that hard earned cash.
---
You can reply to me about this on Twitter: